---
Academy of Management 2016 Symposium
---
Webinar: How Confidence Impacts Your Professional Success
In this Webinar, hosted by Ivy Exec and WSB, learn how to leverage confidence for improved performance and greater career outcomes. Skill and motivation are driving factors in career success. But most plateau professionally despite their talent. Confidence, as another essential success factor, is often overlooked. In this webinar, Alex shares what research reveals about confidence in the workplace.
---
Webinar: Motivating Exceptional Performance Through Transformational Leadership
In this Webinar, hosted by Ivy Exec and WSB, Alex defines several leadership styles and explains how they differ in their effects on employees. Specifically, he focuses on the qualities that distinguish transactional managers from transformational leaders.
As reported by WSB, Alex's talk on transformational leadership was among the highest performing webinars with more than double the average views and 15 percent higher webinar registrations. Ivy Exec provides career resources for executives and partners with top business schools, including Kellogg, Tuck, Cornell and Columbia.
---
Blog: How to Predict Employee Performance and Satisfaction
In this blog Alex writes about the importance of confidence in predicting employee performance. This blog was rated #1 WSB's most popular faculty blog for 2015.
---
Video: What is Confidence?
In this video, Alex briefly describes his 2015 publication in Organizational Behavior and Human Decision Processes titled, "The role of trait core confidence higher-order construct in self-regulation of performance and attitudes: Evidence from four studies." The American Advertising Awards, known as the ADDYs, awarded this video a Silver ADDY for 2016.
---
In the News: Huge Morgridge gift grows beyond UW expectations
Wisconsin endowments of nearly $250 million have been pledged in the "Morgridge Match" by John and Tashia Morgridge. Alex's existing M. Keith Weikel distinguished Chair ($3M) was matched 100% in an endowment by the Morgridges to the University of Wisconsin-Madison.
---
In this Interview with Elle Magazine, Alex talks about the importance of self-efficacy in the careers of women.
---
Office Hours Gone Golden
One of Alex's former students describes her experience in attending Alex's office hours.
---
A Quantitative Examination of Trends in I-O Psychology 2001 – 2005

Alex's article is #10 in the Top 20 Most Highly Cited Equally Industrial Organizational Articles from 2001 – 2005.
---
Podcasts: Work Motivation, Self Efficacy, & Social Cognitive Theory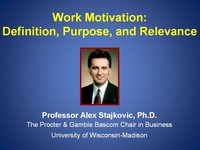 Work motivation: definition, purpose, and relevance

Prof. Alex Stajkovic – University of Wisconsin-Madison, USA
---